Welcome back—and a big announcement!
Dear CDH Friends,
Welcome to the new academic year!
Here at the Center for Digital Humanities, we look forward to seeing all of you back on B- Floor and engaging with you through our events and initiatives—including some new opportunities!
First, the headline: we are excited to launch our new Graduate Certificate in Digital Humanities this fall. We are proud to offer this formal qualification to Princeton Ph.D. students, who have long been valued collaborators and interlocutors, and we hope to see many interested students at our Graduate Certificate Information Session on September 27 at 2 pm in person and on Zoom (RSVP).
We've also been busy with our undergraduate initiatives. As Princeton phases out undergraduate certificates, undergraduates in the Class of 2025 and below can engage with digital and computational humanities via the new Data and Culture cluster in the Humanistic Studies minor. The cluster includes our flagship Introduction to Digital Humanities course (taught next in Spring 2024). For now, students can still pursue a DH-related pathway within the Certificate in Humanistic Studies. We are thrilled to share our newly established CDH subject code, which makes it easier for both undergraduate and graduate students to identify Princeton courses in computational and data humanities.
As ChatGPT and related Large Language Model (LLM) technologies continue to be a subject of discussion in higher education and beyond, we are pleased to offer a new event series: the LLM Forum. Co-organized with the Department of Computer Science and with support from the Humanities Council, the series kicks off with a discussion between Meredith Whittaker (Signal) and Arvind Narayanan (Computer Science and Center for Information Technology Policy) on October 25 at 4:30 pm in Friend Center 101. On November 8, I will be in conversation with Wai Chee Dimock (Yale), also at 4:30 pm in Friend Center 101. The LLM Forum builds on the CDH's work with LLMs, including the NEH-supported institute, New Languages for NLP: Building Linguistic Diversity in the Digital Humanities, held in 2021–22, and last year's symposium on Machine Learning and the Future of Philology, co-hosted with the MARBAS initiative.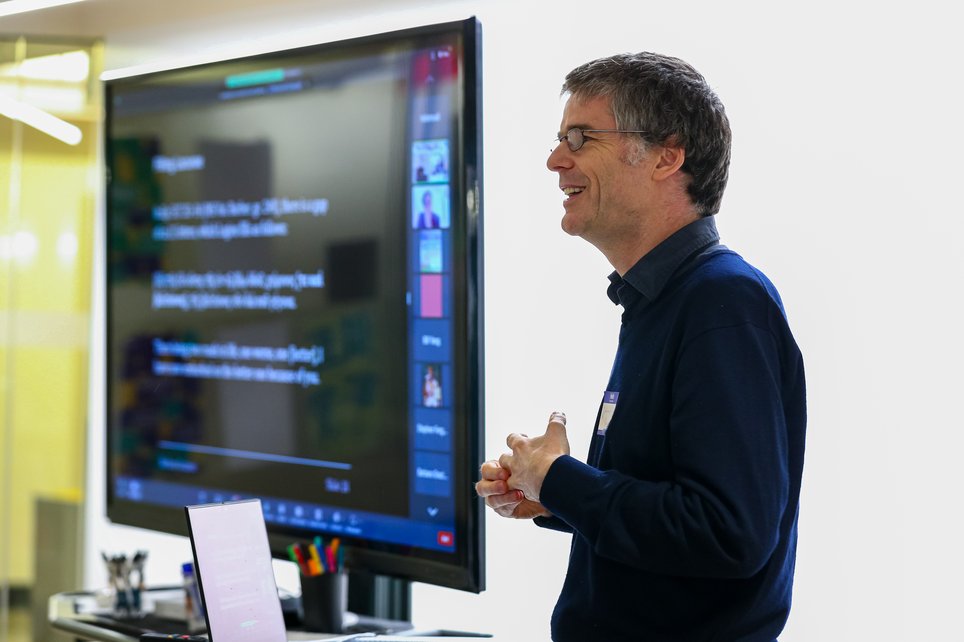 With the new academic year underway, we are excited to pilot a program called the Humanities Accelerator in partnership with the Vice Dean for Innovation and the Keller Center. These sessions will help orient humanities scholars in project planning, fund-raising, and long-term project sustainability on and off campus. Of course, we continue to offer our major fellowships and funding opportunities. We are currently at work on research partnerships with Lara Buchak (Professor, Philosophy) on her project Simulating risk, risking simulations; Jeffrey Himpele (VizELab Director, Anthropology) on the Lunaapahkiing Princeton Timetree; and Joshua Kotin (Associate Professor, English) on Geotaste, a project that emerged from the Shakespeare and Company Project. New Data Fellows Jenny Wiley Legath (Associate Director, Center for Culture, Society, and Religion), Maria Alessia Rossi (Art History Specialist, Art and Archaeology), and Tiako Djomatchoua Murielle Sandra (Ph.D. student, French and Italian) joined the program this summer while several of last year's fellows continue their projects. As always, we welcome project proposals from Princeton's diverse group of talented researchers, regardless of rank. Though we've started a Certificate program, for now we are continuing to host Graduate Fellows in order to reach the widest population of graduate students on campus; our first meeting with the fall 2023 cohort of Graduate Fellows is this month.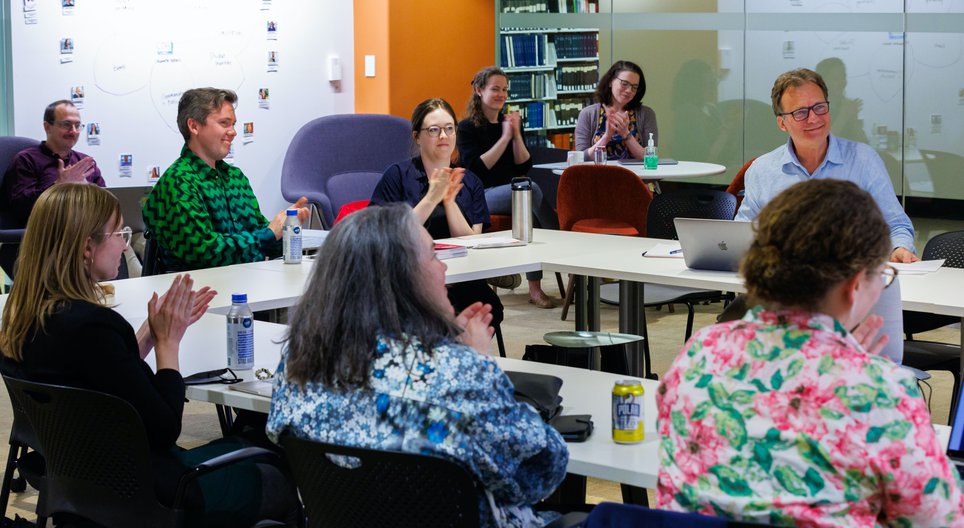 We've had many exciting staff transitions this past year, and there are a number of new faces on the B-Floor. Research Software Engineer Ryan Heuser and Events and Office Administrator Jean Shaver joined us in the fall semester; Assistant Director Jeri Wieringa, Communications Manager Carrie Ruddick, and DH Project Manager Mary Naydan began their positions over the summer; and our longtime Business Manager Elizabeth Samios was recently promoted to Center Manager. Today, we welcomed two new postdocs: Wouter Haverals, the new Perkins Fellow in the Humanities Council and CDH postdoctoral research associate; and Happy Buzaaba, who will be affiliated both with the CDH and with the African Humanities Colloquium at the Princeton Institute for International and Regional Studies. Wouter and Happy join Christine Roughan, who started last month as the CDH/MARBAS postdoctoral research associate. Both Happy and Christine's postdocs, new this year, represent important collaborations with our partners on campus.

In the coming weeks, we hope to see you at our events, beginning with our annual CDH Open House on September 18 at 4:30 pm at our offices on B-Floor of Firestone Library. On September 21 at noon, we'll be hosting media theorists John Durham Peters and Shannon Mattern for an unconventional conversation; seating is limited, so please RSVP if you're interested. I've already mentioned our fall LLM Forum events—don't miss them! And, as always, make sure to follow us on Twitter (sorry, not calling it X, Bluesky here we come!) and consult our website for the latest CDH updates.
Wishing you all the best,
Meredith Martin
CDH Faculty Director
Director, Graduate Certificate in Digital Humanities