Recognizing Outstanding Undergraduate Work
Each year, the Center for Digital Humanities seeks nominations for our Senior Thesis Prize, which honors exceptional undergraduate work at the intersection of computer science and the humanities. This can be achieved by using digital tools to map, organize or produce humanities-based research, or by bringing digital methods of data analysis and thought into critical conversation with humanities material.
We are pleased to introduce some of the outstanding nominees from the Class of 2023. This year's winner, AnneMarie Caballero (Computer Science), will be featured in our July newsletter.
Payton Croskey
Title: "Fashioning New Worlds: Weaving Alternative Futures through Fashion Technology and Black Ingenuity"
Department: African American Studies
Tell us about your project.
In this paper, I adopt a Black studies lens to reckon with fashion's material, social and cultural dimensions—and what it all reveals about our pending future. By analyzing speculative fashion proposals and Black cultural approaches to clothing design and textiles, I highlight fashion's impact on social realities while questioning the values and practices shaping these creations. I then uncover imaginative, sustainable futures—including those embedded in my own fashion-tech proposals.
How does your work engage with digital tools or methods?
Plant-based fabric for waste-free living, digital fashion for a virtual existence and 3D-printed gills for a submerged aquatic society are all proposed futures explored in this project. My paper investigates the social, environmental and material flaws in embedding these new and emerging technologies in today's fashion designs and processes. I then used my analysis to design my own futuristic fashion pieces, which included programmed motors that allowed them to move autonomously.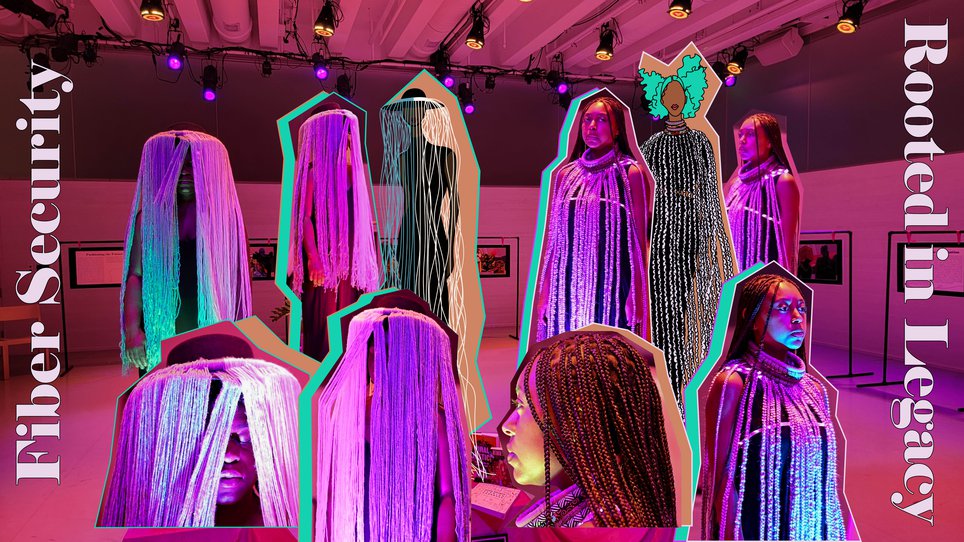 What's one takeaway from your thesis that you'd like readers to know?
The designs we draft today create the reality we live tomorrow. Each proposal has the potential to shift mountains and reverse tides. And constructing a world where creativity blooms and communities thrive requires honoring rich cultural legacies, parting from a consumptive culture, centering sustainability and expanding our imagination of what is possible as we design and construct the liberatory future of our dreams.
Kanishkh Kanodia
Title: "Beyond Norm-Takers or Norm-Breakers: India and China's rhetorical engagement with the norm of sovereignty at the United Nations Security Council between 1971-1992"
Department: School of Public and International Affairs
Tell us about your project.
For my senior thesis, I wrote about how China and India have grappled with practical questions of territory and sovereignty at the United Nations in the 1970s through the 1990s. I utilise the explanatory power of national self-image as an independent variable to show that China and India have had subtly different views of sovereignty within the UN system. China has a more territorial notion of sovereignty with a skeptical view of international law and institutions. Indian ideas about sovereignty are less territorial in nature, and informed by broad questions of justice, equality, and peace.
How does your work engage with digital tools or methods?
This thesis uses a combination of quantitative and qualitative methodologies. On the quantitative side, I use a Dynamic Topic Model (DTM) to show the descriptive differences of words used by India and China over time at the UN Security Council to talk about issues of sovereignty. On the qualitative side, I analyze their stance on the issues of Namibia and Cyprus to understand the differences in their notions of sovereignty and rhetorical engagement with the principles of sovereignty. DTM is a type of computer-assisted text analysis method that uses the capacity of natural language processing (NLP) to analyze the changes in the saliency of words in a text corpus, which allows the thesis to explore the interactive processes of how norms and ideas influence and shape the behavior of actors. To implement the DTM, I utilised the code and methodological protocol developed by Anatoly Levshin for his working paper "Collective Security as Grand Strategy: The League of Nations, United Nations, and the Statecraft of Multilateral Pacification."
What's one takeaway from your thesis that you'd like readers to know?
Traditional accounts of the rise of the nation-state and creation of the international order minimize the agency of Third World countries in the creation of the order. However, my thesis presents a more nuanced and complex picture of the conduct of non-Western states with regard to their engagement with sovereignty in the international society. By chronicling India and China's response to the issues of Cyprus and Namibia, I showed how the unique histories and interests of non-Western actors shaped their foreign policy behavior, more specifically their conception and notions of the idea of sovereignty.
Any advice to future thesis writers?  
My two biggest takeaways were to start early and seek out help when needed! Starting the thesis process relatively early allowed me to make mistakes, and get stuck multiple times on the way to figuring out my topic and the research methodology. Giving yourself the time and the space to do that is how research is supposed to be conducted. To get through the roadblocks, reach out to the people on the campus for help and support. Sometimes, the help they provide might not look exactly how you had imagined it to be like, but it will definitely get you a step closer to your answers!   
AJ Lonski
Title: "'Black box': Animating Texts in the Old English Period"
Certificate: Medieval Studies
Tell us about your project.
In my thesis, I explored the uses of animacy within fragmentary Old English Period objects. I first compared The Ruin and Riddle 26, two poems found only within the Exeter Book manuscript, to highlight the similarities in cultural fragmentations and uses of animacy within each work. I then place the Exeter Book in conversation with the 8th century object, Franks Casket, to expand my argument of fragmentation. In doing so, I sought to identify an underlying mechanism of medieval narratorial focus that connects three objects rarely connected in the discourses of Old English: poetry and fragmentation. Finally, I synthesized my exploration of fragmentation with machine learning by utilizing a natural language processing framework for predicting the missing lines within the poem The Ruin.
How does your work engage with digital tools or methods?
For my natural language processing component, I implemented a RoBERTa transformer-based masked prediction model. In doing so, I was able to synthesize the idea of textual and narratorial fragmentation with physical fragmentation, as well as identify the plausible content of several different lines of The Ruin.
What's one takeaway from your thesis that you'd like readers to know?
One takeaway from my thesis is that the sparsity of the Old English corpus, despite advancements in machine learning, still remains problematic for creating reliable masked word predictions.
Any advice to future thesis writers?  
Have fun with it! I wrote this thesis after finding that I really enjoyed Medieval Studies at Princeton, and wanted to connect my experience in machine learning with my fascination for Old English poetry.
Yewande Sofola
Title: "'The Body is the Keeper of it all. The Body is the House for us': Somatic Methods of Healing Generational and Racialized Trauma"
Department: Anthropology
Tell us about your project.
My thesis explores the role of Dance Therapy and Somatic Therapy in healing racialized and generational trauma. In this interdisciplinary project, I unpack the ways in which racialized and generational trauma are misunderstood, misrepresented, and under addressed in the communities they impact the most. I discuss the socio-political reception of embodied therapeutic practices, theorizing as to why they are stigmatized in mainstream mental health care and underutilized. Using ethnography, literature review, and data visualization, I lay out the future implications of being able to both adequately address trauma in the African American community particularly, as well as implications of regarding somatic therapies as equal to traditional talk therapy. 
How does your work engage with digital tools or methods?
One key argument of my project is that trauma is an extremely embodied experience which is best studied, understood, and communicated through embodied means. In including a digital element to my thesis, I wanted to reframe what is typically thought of as 'data,' and explore how dance and movement can be used in data visualization. To accompany my paper, I created a choreographic video as a supplemental way of sharing my findings. In addition to this, I linked readers to my own rehearsal videos which could be 'read' alongside the written text. These choreographic data visualizations added a crucial layer which bridged my embodied ways of knowing with the more traditional ethnographic research.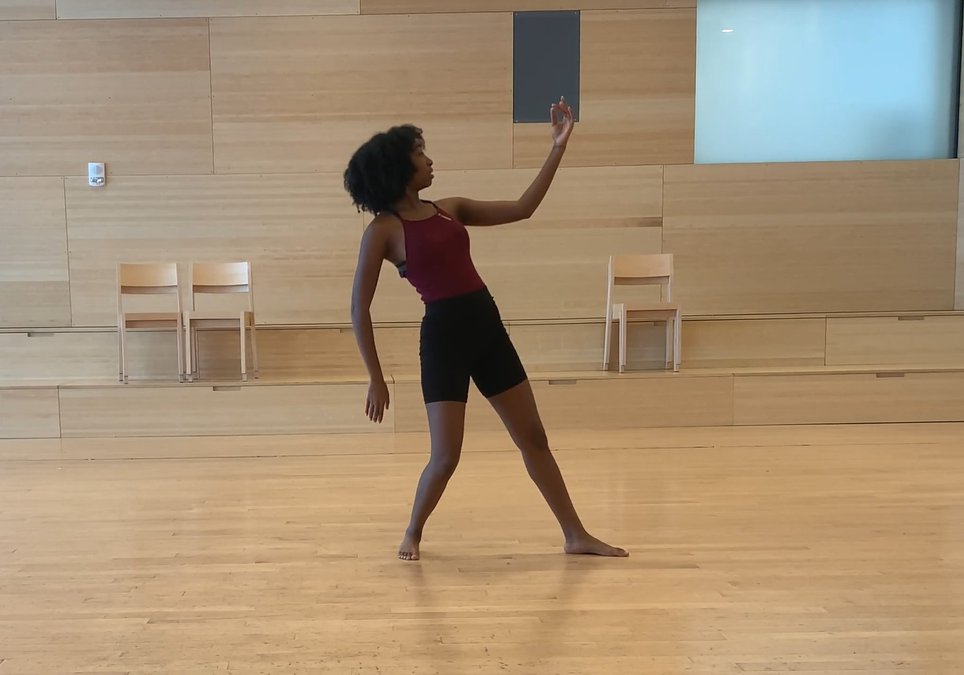 What's one takeaway from your thesis that you'd like readers to know?
As a takeaway, I would like readers to see the immense possibility that somatic therapies hold within the realm of Restorative Justice and overall harm reduction in our society. In addressing racialized and generational trauma, we can both provide reparations for victims of systemic harm as well as help prevent future injury. Moving forward, these embodied methods of activism which center joy, healing, and life-affirming practices can and should lead the way. 
Brendan Zelikman
Title: "Harmonia: A Pattern-Based DAW with Structural Harmony"
Department: Computer Science
Tell us about your project.  
For my thesis, I designed and developed Harmonia: a web-based platform for music composition. Harmonia builds upon digital audio workstations like Ableton and GarageBand with a focus on manipulating patterns within scales. Users can create songs from scratch and playback their compositions in real time, as well as save and load their projects for future work on the website. I was really passionate about making Harmonia accessible for musicians of any level, so I spent a lot of time refining the interface and integrating hundreds of custom preset scales and patterns.
How does your work engage with digital tools or methods?  
Harmonia offers an upgrade to the digital audio workstation (DAW) with an innovative representation of harmony that integrates the Western tradition of music. By encoding Professor Dmitri Tymoczko's notion of the quadruple hierarchy—encapsulating the voices, chords, and scales of Western music appearing in classical, jazz, rock, and so much more—I was able to create a unique interface that lets users intuitively compose by transposing patterns along different chords and scales. I initially designed Harmonia in the style of contemporaries like Ableton Live and Logic Pro, and then tactically increased its engagement by adding expressive icons and flashes of color.
What did digital methods or tools add to your project that would not have been there otherwise?  
With the help of digital tools and a variety of community-built plugins, I was able to overcome the physical limitations of written musical notation and craft an elegant workflow that alleviates the cognitive load of pattern-based composition. By having the website take care of calculations like transposition and inversion, I let the user easily compose with the broad stroke of their brush and clearly focus on the bigger picture of their music. With a diverse library of samples from over 40 unique instruments, Harmonia puts the power of the orchestra in every user's hands.
What's one takeaway from your thesis that you'd like readers to know?  
Anyone can be a musician! Right now, our tools for composition are too limited in the way they help us think about the larger structures and ideas in our music. We should be thinking less about individual notes and more about broader patterns—or, as Laurie Spiegel called them—"chords, motifs, melodies, rhythms, meters, harmonic progressions, etc. right up to sonatas and symphonies."
Any advice to future thesis writers?  
Write about something you love! It will make your life a lot easier when you can procrastinate on your other classes with a passion project.
Congratulations to all the nominees!