Shakespeare and Company Project
Recreating the world of the Lost Generation in interwar Paris.
Project team
Project Director

Technical Lead

Project Alums

Carl Adair

Serena Alagappan

Oliver Browne

Jin Chow

Currie Engel

Madeleine Joelson

Carolyn Kelly

Sara Krolewski

Ellie Maag

Isabel Ruehl

Sylvie Thode

Clifford Wulfman
Built by CDH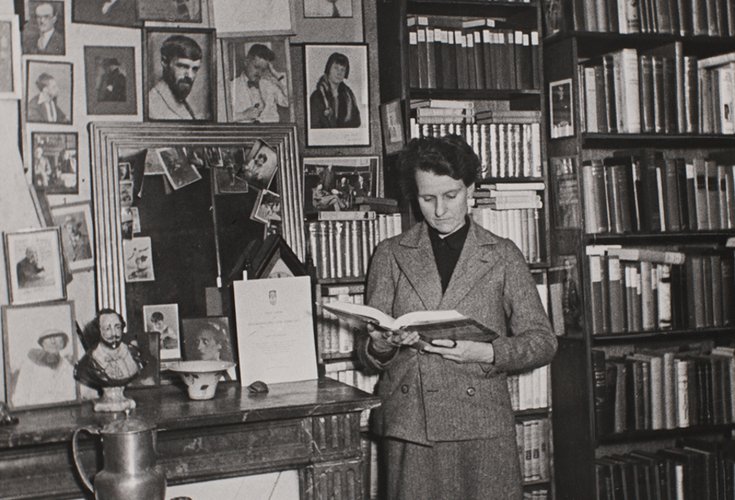 In 1919, an American named Sylvia Beach opened a bookshop and lending library in Paris. She called it Shakespeare and Company and it quickly became the meeting place for a community of expatriate writers and artists now known as the Lost Generation. In 1922, Beach published James Joyce's Ulysses under the Shakespeare and Company imprint, a feat that would make her—and her bookshop and lending library—famous.
The Shakespeare and Company Project is a digital humanities initiative that uses documents from the Sylvia Beach Papers at Princeton's Firestone Library to recreate the world of the Lost Generation. The Project details what members of the lending library read and where they lived, and how expatriate life changed between the end of World War I and the German Occupation of France. The Project also illuminates the influence of Shakespeare and Company on French intellectual life.
In phase I (2015–2016), the project team focused on transcribing and encoding two sets of records from the Beach Papers: logbooks that include every library membership and renewal, and lending library cards that include addresses and borrowing histories of individual library members. In phase II (2016–2017), the project team focused on refining the encoding and developing a personography of lending library members. In phase III (2018–2019), the project team began developing a new interactive website that will allow the public to explore the the lending library membership and track the circulation of books.
The Project, which was originally called "Mapping Expatriate Paris," was founded in 2014 by Joshua Kotin, Jesse McCarthy, and Clifford Wulfman. An overview of the project was available at mep.princeton.edu from 2016 to 2019 with a map created by Moacir P. de Sá Pereira.
Photo of Beach in Shakespeare and Company by Gisele Freund.
CDH Grant History
2020– Long Term Support
2020–2021 Project Enhancement
2019–2020 Dataset Curation
2018–2020 Sponsored Project
2016–2017 Sponsored Project
2015–2016 Sponsored Project
2014–2015 Seed