'Reading Matters' Conference
Conference
Nov 29 4:30 – Dec 01 5:00 pm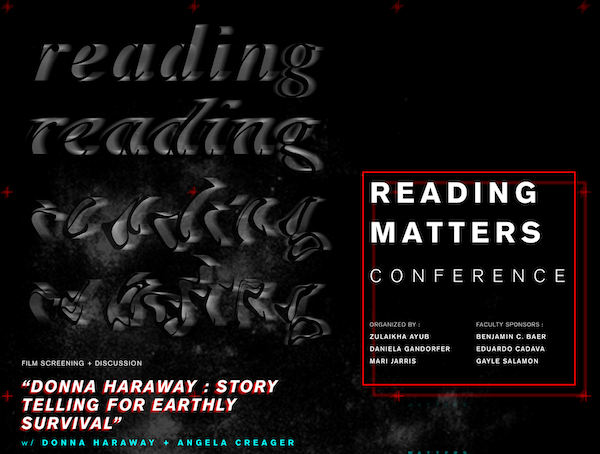 The CDH is proud to be co-sponsoring 'Reading Matters', a three-day conference convening in Princeton, that brings together luminary scholars from the fields of the sciences, humanities, and design, to propose and discuss diverse and interdisciplinary methods for reading practices. The conference is free and open to the public. Registration is recommended, as seating is limited.
The conference calls on an interdisciplinary group of distinguished scholars to respond to contemporary political problems in their many social, textual, material, and embodied manifestations by considering reading as a collaborative, engaged and generative practice. In reflecting on why and how reading matters, participants will consider the influence of new media and the digital humanities on reading, and the viable encounters between the humanities, the creative and applied arts, and the natural sciences. Articulating and performing a mode of reading that responds to the challenges of the present has been a constant endeavor not only in literary studies, but in all academic disciplines. Technological and scientific developments require us to constantly reflect on what it means to read and make sense of texts and events as conveyed through various mediatic forms, across disparate global contexts. A crucial aspect of this is accounting for their various historical, political and cultural specificities.
This event is a collaboration between The Department of Comparative Literature and The School of Architecture and is co-sponsored by the CDH.