Recovering the Global Dimensions of W.E.B. Du Bois's Career
Speakers
Guest Lecture
Mar 05 4:30 – 6:00 pm
Center for Digital Humanities
Firestone Library, Floor B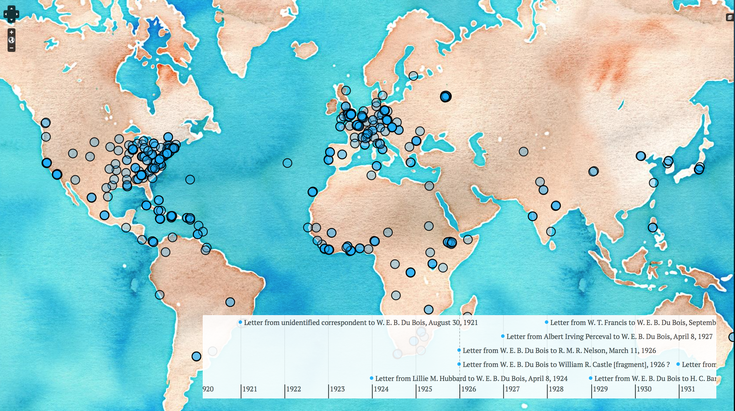 W.E.B. Du Bois is perhaps best remembered for his foundational contributions to African American studies, sociology, history, and civil rights. These achievements are typically accorded to the early years of his career as a scholar-activist, while the successes of his later years receive comparatively less attention. Yet, his later years offer keen insight on a global vision for emancipation and anti-colonialism, particularly through his much-maligned venture into novel writing. Challenging this bifurcated view of Du Bois's biography, this talk explores Risam's use of digital cultural mapping and citation analysis to recover both the value of Du Bois's literary work and a global legacy for African diaspora and postcolonial studies that runs throughout his career.
Roopika Risam serves as Assistant Professor of English, Coordinator of the Digital Studies Graduate Certificate Program, Digital Humanities Coordinator, and Chair of the Program Area for Content Educators at Salem State University. Her monograph, New Digital Worlds: Postcolonial Digital Humanities in Theory, Praxis, and Pedagogy will be published by Northwestern University Press in 2018. Risam is co-editor of Debates in the Digital Black Atlantic for the Debates in the Digital Humanities series (University of Minnesota Press) and her work has appeared in Digital Scholarship in the Humanities, Digital Humanities Quarterly, First Monday, and Left History, among others. Her digital projects include The Harlem Shadows Project, a digital critical edition of Claude McKay's poetry; Visualizing Du Bois, a mapping project of W.E.B. Du Bois's correspondence; and Digital Salem, a portal for small-scale, student-led digital humanities projects that tell the untold stories of Salem, Massachusetts. She is director of the project "Networking the Regional Comprehensives," an NEH ODH-funded project to develop a network of digital humanities practitioners at regional comprehensive universities. Risam is also currently writing a monograph on W.E.B. Du Bois's influence on knowledge infrastructures in the humanities.Visit her webpage at http://roopikarisam.com.
This lecture is co-sponsored by the Departments of African American Studies and English.