Geo-referencing Literary Texts and Historic Maps: A Pelagios and Pleiades Workshop
Speakers
Workshop
Nov 15 12:00 – 1:20 pm
Center for Digital Humanities
Firestone Library, Floor B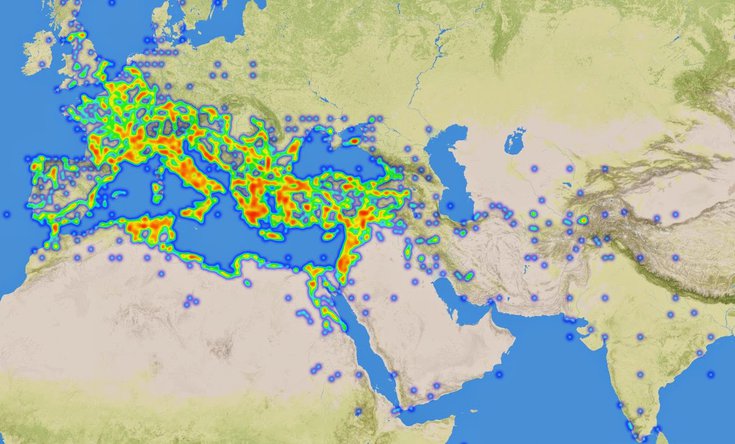 Almost every text we work with—historical or otherwise—has a spatial component to it. Whether it is mapping Mary Shelley's Frankenstein or exploring the margins of the Mediterranean in Edward Gibbon's The History of the Decline and Fall of the Roman Empire, geography is an important part of many texts. This workshop explores the textual annotation tool within Pelagios.org's Recogito feature, which allows professors, students, and the public to annotate, tag, and visualize locations from texts automatically. This workshop will teach you how to upload texts and easily create interactive maps to allow deeper engagement with texts. It will also introduce attendees to the basic tenets of linked open data as applied within the realm of HGIS.
Lunch will be provided.
Sarah Bond is an Assistant Professor of Classics at the University of Iowa, where she is also an affiliated scholar with the Digital Scholarship & Publishing Studio. She received her BA in Classics and History with a minor in Classical Archaeology from the University of Virginia(2005) and her PhD in Ancient History from the University of North Carolina(2011). She is the author of numerous articles on tradesmen and law in the later Roman empire. Her recent book, Trade and Taboo: Disreputable Professions in the Roman Mediterranean, was published with the University of Michigan Press in 2016. Additionally, she teaches GIS workshops and digital pedagogy as an associate editor for the Pleiades Project online gazetteer(a digitization of the Barrington Atlas) and is a pedagogy editor for the Pelagios Project. She is a regular columnist at Forbes, a contributor to Hyperallergic, and a frequent blogger.