Honoring Exceptional Doctoral Work
Every year, the Center for Digital Humanities awards its Dissertation Prize, which recognizes outstanding doctoral work by Princeton PhD alumni. In the spring, faculty are invited to nominate recent alumni whose dissertation included digital humanities as an integral component. Alumni can also self-nominate with faculty support.

This year, the winners are Lizabel Mónica *22 (Spanish and Portuguese) and Kristen Starkowski *21 (English).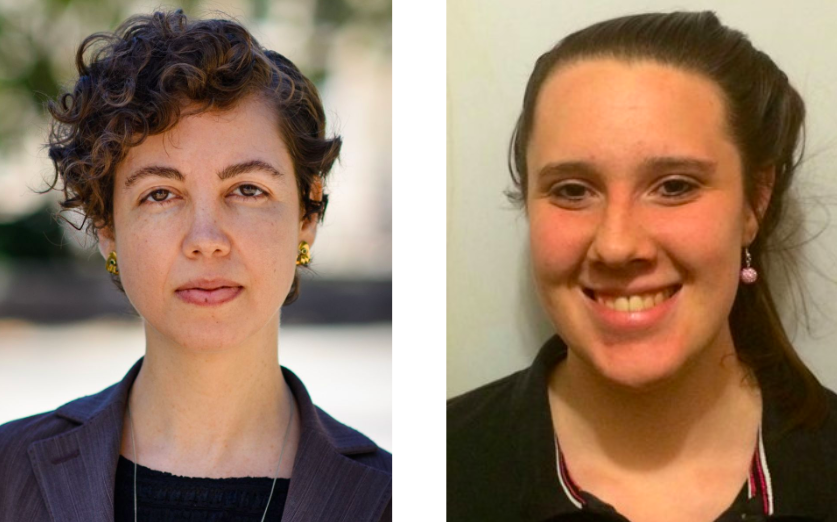 Lizabel's dissertation, Literatura por otros medios: Tecnología digital y campo literario en la Cuba contemporánea, examined the legacies of digital paradigms—including digital media and technologies—and their influence on Cuban literature and writers in the late 20th and 21st centuries. "Cuba is a country known both for its limited access to the internet and for its pioneering digital culture," Lizabel said. Her dissertation analyzed the ways Cuban literature and adjacent cultural production responded to various digital media.

Lizabel discovered that "the use of digital technologies has transformed the relationship between art and producers in Cuba," reshaping literature and art in Cuba. "Before technology and during the Revolution," Lizabel said, "this relationship was entirely mediated by the State. Today, producers and consumers can interact directly with each other, and it has also changed who is the producer and who is the consumer. In literature, I found that both producers and consumers are the writers themselves."

Kristen's dissertation, Doorstep Moments: Close Encounters with Minor Characters in the Victorian Novel, analyzed the relationships of minor characters in Victorian novels and the spaces they occupied in the narratives. In her analysis of these characters, Kristen found connections "between the characters pushed to the edges of these crowded fictional worlds and gender, working-class status, vagrancy, and disability."

In order to keep track of the characters and the spaces they occupied within different novels, Kristen used the open-source software platform Cytoscape to visualize the network systems within the different Victorian novels. Cytoscape allowed her to "model the proportion of character space that minor characters received in different novels."

"Using DH helped me change the conversation around character systems in the realist novel," Kristen said. "Network analysis helped me show that connections matter as much as page space. I found that whether characters are major or minor has as much to do with their connections to other characters as it does with their presence on a specific number of pages." 

Both Lizabel and Kristen were active in the CDH community. Kristen was a CDH Graduate Fellow, and Lizabel worked extensively with former CDH postdoctoral fellow Nora C. Benedict to help develop the online collection, Digital Entanglements, a repository and virtual exhibition space for Cuban-born digital cultural products. 

We will be profiling each winner this month on the CDH blog. We will post Kristen's profile on November 7 and Lizabel's on November 14.

Congratulations to Lizabel and Kristen!