Something truly inspiring has been happening in the aftermath of Hurricane Maria. Something that started small, as the brainchild of a few wonderful humans at Columbia University, and has continued to grow, to blossom, and to bifurcate among a variety of institutions across the nation. This something takes virtually no training and can be done from anywhere with just a laptop, an internet connection, and a bit of time; yet this something has a direct impact on relief efforts in Puerto Rico, and is a great way for people who are far away to contribute something that will make a big difference. This something is the #PRMapathon movement.
After seeing the impact of OpenStreetMap efforts and pseudo-religiously following the chain of similar mapathons across the country, my co-fellow, Jim Casey, and I decided to plan our own #PRMapathon here at the CDH. We put our heads together and drafted emails and created flyers, and teamed up with two vibrant colleagues, Elvia Arroyo-Ramirez and Nadirah Mansour, to reach as many people as possible. We ended up doing just that, and had an impressive turnout for our #PRMapathon. Partially as a way to reflect on what I learned, and partially as a way to process what I experienced, I wanted to share three lessons that I took away from co-hosting a #PRMapathon.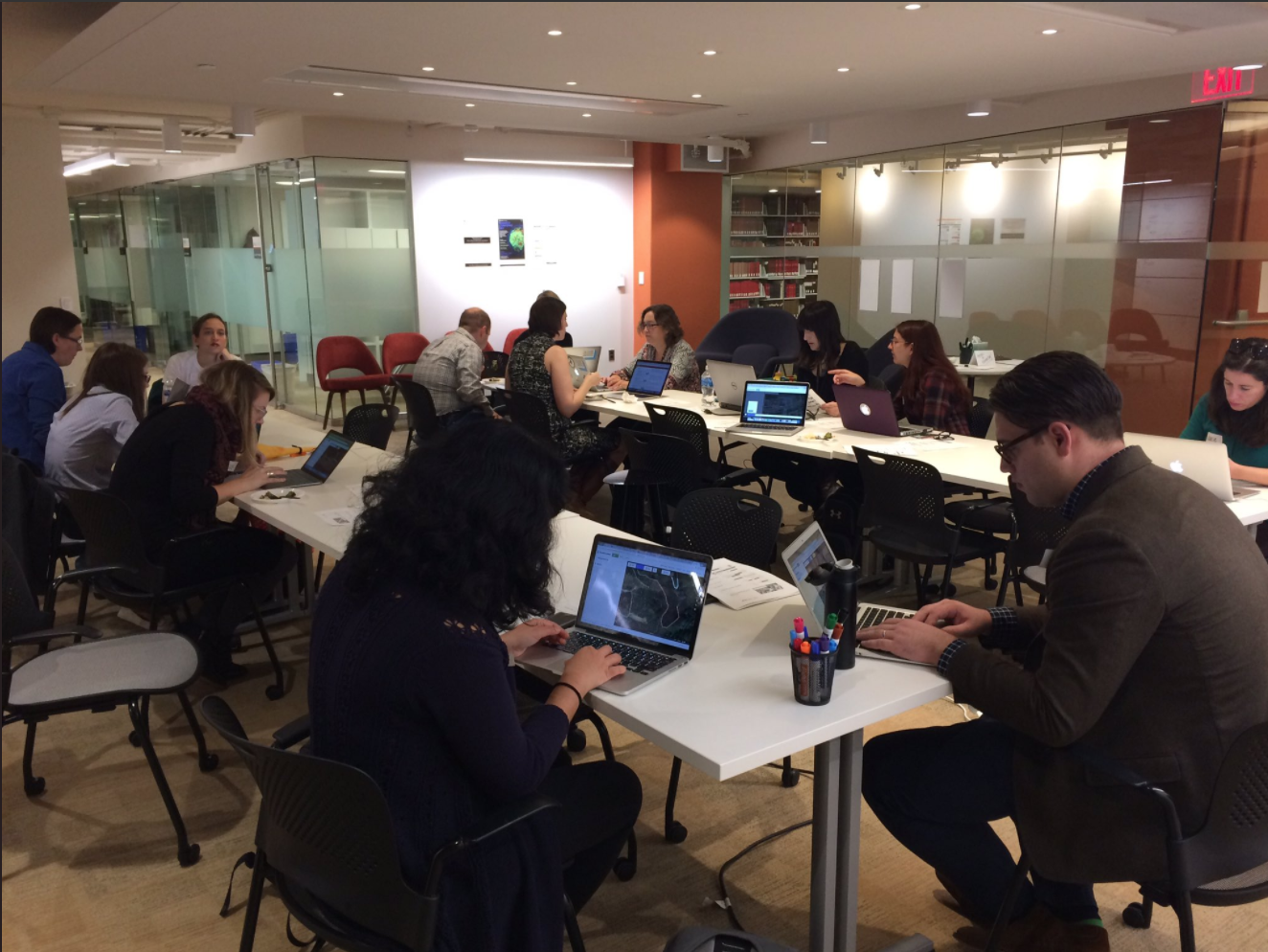 For starters, I was most shocked to find that the attendees were not just undergraduate/graduate students or faculty members of Princeton, but also local members of the Princeton (town) community that had seen advertisements online or through word of mouth and wrote to us with the hopes of being able to help. This leads me to my first lesson:
The power of community
Jim and I had no idea if anyone would be interested in coming to our event, if our emails and posters would reach people in time, or if we would be able to "compete" with any of the other amazing events happening on the Princeton campus on any given day. I know that I can speak for both of us when I say that I was in awe of the number of people that shared their time and mapping efforts with us last Wednesday. From library staff and tenured faculty, to retired community members and local non-profit employees, the #PRMapathon showed us that communities come together for the greater good. This leads me to lesson number two:
The contagiousness of good deeds
Not only did people come from near and far to learn how they could contribute meaningfully to relief efforts in Puerto Rico, but they also expressed a desire to pay it forward. Before, during, and after our #PRMapathon, Jim and I were approached by various individuals (and even entire organizations and other universities!) for more information on how they might be able to host their own mapathon. After seeing how quick, easy, and effective the OpenStreetMap platform is for helping communities anywhere in the world in the wake of natural disasters, it seemed like everyone wanted to spread the word to their family, friends, and colleagues. I alone received at least four separate emails from attendees asking for the "quick start guide to mapping" that we used so that they could pass it along to others. This leads me to my third, and final, lesson:
The importance of sharing your story
Even though I was inspired by the number of diverse people that attended our #PRMapathon, what struck me most, and what continues to resonate with me, are the personal stories that several Puerto Rico natives shared with us that day. These were truly harrowing, truly personal stories from individuals who were physically in Puerto Rico during Hurricane Maria, or who had family members, friends or loved ones who lived through the storm on the island. Their truths, their pains, their frustrations, and their worries were all extremely palpable. They urged us to keep talking about Puerto Rico. They shared various ways to get more involved with grassroots organizations. They assured us that it would be a long, arduous process to get Puerto Rico back to where it was before the hurricane, but things like the widespread mapathon effort are a step in the right direction. These stories are why we need to keep talking, coming together as a community, and sharing what we learn as widely as possible.
***
Within hours of drafting this piece, the Nimble Tents Toolkit launched ( ¡en dos idiomas! ), and my heart could not be happier.