Digital Humanities and the Library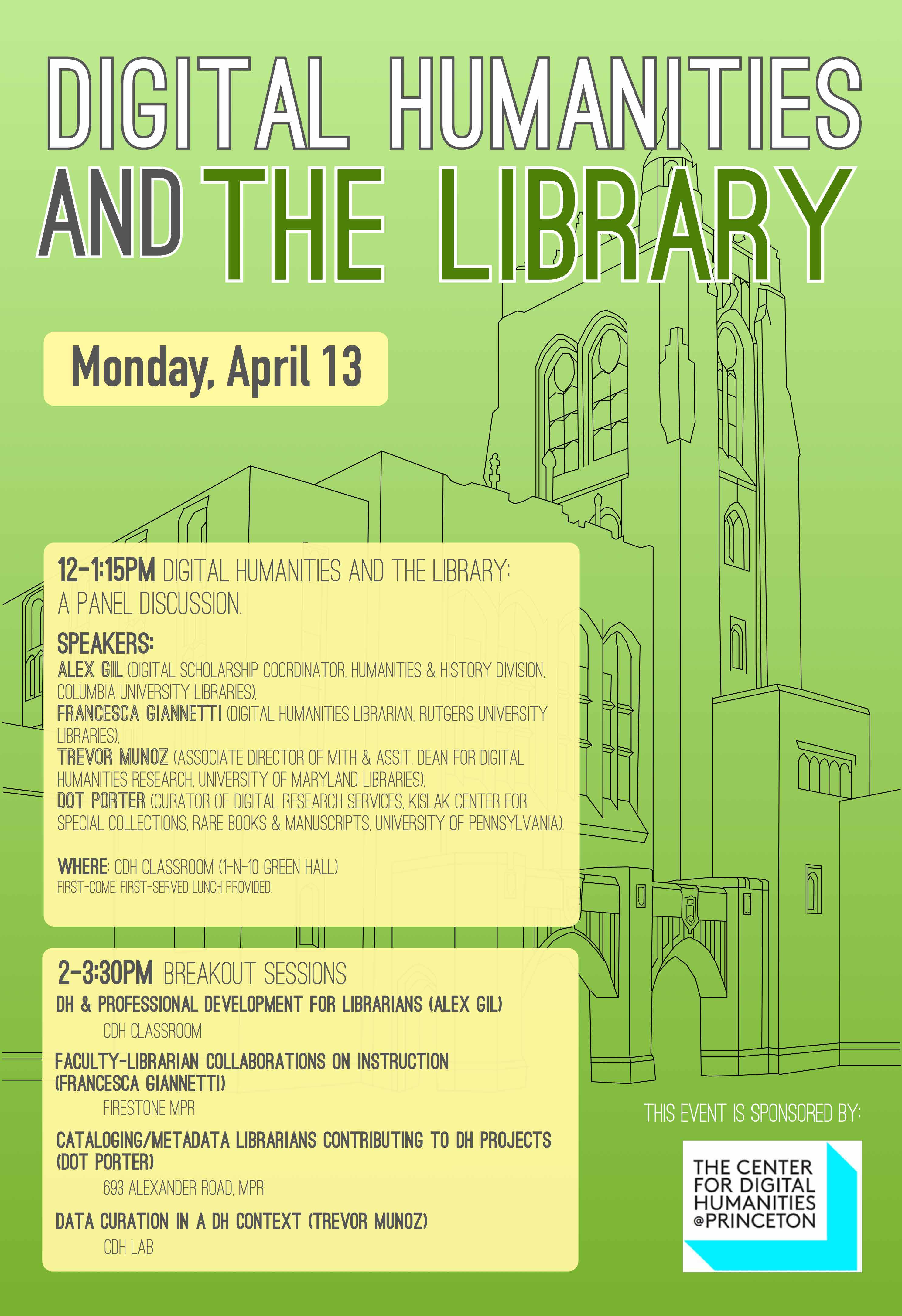 Librarians were crucial to the emergence of the field known as digital humanities, and continue to shape its future. The Center for Digital Humanities is pleased to host an event at Princeton on Monday April 13 that will bring together four leaders in the field whose work at the intersection of research, technology and the library exemplifies ways that DH can transform the profession and the library landscape. The Center for Digital Humanities invites all members of PUL community to participate in this event.
Speakers
Alex Gil, Digital Scholarship Coordinator, Humanities and History Division, Columbia University Libraries
Francesca Giannetti, Digital Humanities Librarian, Rutgers University Libraries (New Brunswick)
Trevor Muñoz, Associate Director of MITH and Assistant Dean for Digital Humanities Research, University of Maryland Libraries
Dot Porter, Curator of Digital Research Services, Kislak Center for Special Collections, Rare Books and Manuscripts, University of Pennsylvania
Schedule of Events
At the lunchtime panel, the speakers will discuss their main activities as digital humanists in the library. They will touch upon trends and challenges that lie ahead – from evolving notions of library service and institutional structure, to the reevaluation of the librarian's role in collaborative research environments. In the afternoon, each guest will lead a breakout session for more in-depth discussion of a particular topic: DH professional development, faculty-librarian collaboration on instruction, the participation of cataloging/metadata librarians on DH projects, and data curation. Please RSVP to Natalia Ermolaev (nataliae@ princeton.edu ) to reserve a spot at a breakout session.
Detailed Schedule
12–1:15pm Panel Discussion CDH Classroom (Green Hall, 1-N-10)

Lunch available on a first come, first-served basis

2–3:30pm Breakout Sessions DH and Professional Development for Librarians

(Alex Gil) CDH Classroom Faculty-Librarian Collaborations on Instruction
(Francesca Giannetti) Firestone MPR Cataloging/Metadata Librarians Contributing to DH Projects
(Dot Porter) 693 Alexander Rd., MPR Data Curation in a DH Context
(Trevor Muñoz) CDH Lab