12/11/15 - Peter Cornwell Speaks on "Rhetorics and Pragmatics of Sustainability in Digital Humanities"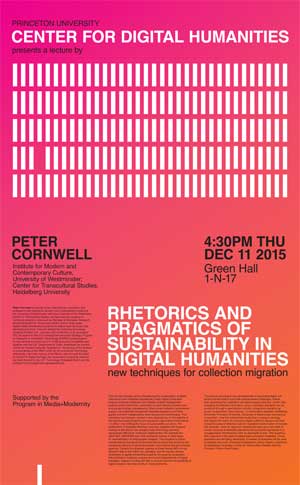 Peter Cornwell
(Institute for Modern and Contemporary Culture, University of Westminster; Center for Transcultural Studies, Heidelberg University)
Rhetorics and Pragmatics of Sustainability in Digital Humanities: New Techniques for Collection Migration
Thursday, December 11th @ 4:30PM
Green Hall 1-10
Over the last decade, factors threatening the sustainability of digital collections have multiplied dramatically. Early digital humanities projects employed database and website content management systems which made them vulnerable to rapid internet evolution and ensuing technology obsolescence. More recent collection ecosystems support internationally recognized metadata standards and have gained a level of independence from deployment technologies. This autonomy has,however, created a new dependency on the stability of the standards specifications and standards organizations themselves - in effect, only shifting the focus of sustainability concerns. The proliferation of metadata definition activities, together with frequent revision of standards, has actually made technology planning increasingly difficult for collection implementers (for example the NISO MIX, SEPIADES and VRA standards overlap in many ways for representation of photographic images). This situation is further complicated by standards bodies themselves becoming tainted by the competing interests of territorial industry associations and government agencies. Despite the dramatic urgency of these issues (80% of raw research data is lost within two decades), and the equally serious challenges to digital scholarship posed by the growing recognition that annotation metadata must be structured independently of object metadata, research funding still fails to accord long-term accessibility of digital research data the priority it clearly demands.
This lecture will present new developments in automated digital collection transformation tools that address these challenges. Rather than assuming that a definitive standards-based collection 'profile' (the encoding of collection information using a metadata standard) can be produced through a specification activity, a long-term migration approach is described.Data Futures – a collaboration between Heidelberg University, Princeton University, University of Westminster and several companies – now has substantial results from a researchstrategy that rejects the notion of conclusive digital collection designs and that instead focuses on effective tools for repeated transformation of humanities archives. Such anapproach enables the best use to be made of current versions of metadata standards without becoming locked in to unsupportable maintenance costs as standards evolve. This is particularly important in the area of independent annotation metadata, where standards are still being developed. A number of examples will be used to illustrate this work, including contemporary China imagery collections at Heidelberg University's Center for Transcultural Studies and the Princeton Phono-Post Project.
Peter Cornwell is Director of the Data Futures Laboratory and professor in the Institute for Modern and Contemporary Culture at the University of Westminster, and also a member of the Heidelberg Center for Transcultural Studies. He has been the recipient of numerous awards in roles such as Manager of European Research and Development for Texas Instruments, and for large-scale digital media infrastructure projects for clients such as Coca-Cola, Samsung and Sony. Cornwell started the California technology company Division, Inc., and was CEO at the time of its successful IPO. An expert for the EU's development of its first Strategic Program on Research in Information Technology (ESPRIT) work-program, he also served on numerous U.K. funding council committees and, together with the U.K. Department of Trade, developed the London Center for Parallel Computer Applications. As director of the Institute of Visual Media at the ZKM Center for Art and Media Technology (effectively a German version of the Media Lab) Cornwell founded its Center for Digital Heritage. His sustainable computing research has been funded by the U.K. Technology Strategies Board and the Austrian Forschungsförderungsgesellschaft.